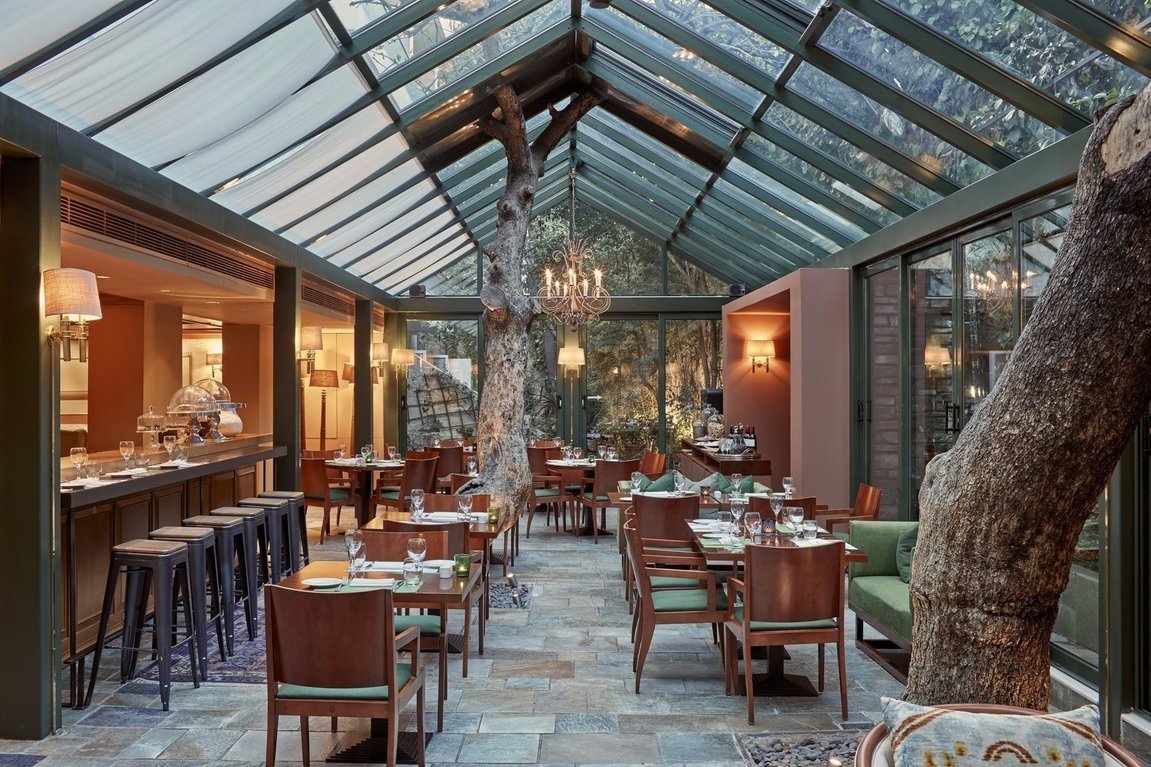 Temporarily Closed
Just a stone throw from Philippos Hotel, Atrium Greek Bistrot located at Herodion Hotel our sister property, offers an amazing journey into the Mediterranean gastronomy, under the Athenian sky.
By day, the space is suffused with light that catches specks of colour off the backgammon boards, books and brightly-hued cushions. By evening, the crackling fireplace permeates the air with the smell of pine and lends the restaurant a cosy, romantic ambiance. Large wrought-iron chandeliers add a touch of sophistication while the wild pistachio trees piercing the azure Athenian sky remind one that literally the outdoors have been brought in with the glass panels reflecting the green of the garden beyond. A cross between a conservatory and a chalet, the Atrium transports you to a greener, more serene place but with the luxury of stepping on exquisite silk carpets and rugs!
Chefs Manolis Mavrigiannakis and Marios Pirpiridis urge you to revisit Greek culinary classics with a real display of sophisticated food craftsmanship. The quintessentially Greek menu, seasonal and locally sourced, ends up being a lesson in Greece's gastronomic geography. Follow it up with Atrium's inventive cocktails under its starry roof. Perfectly constructed for sunshine sipping, take your pick from the Mediterranean Basil Smash made with ouzo, lime juice, sugar, pink pepper, and basil or the enticingly named Red passion, a scarlet quaff made with Aperol and a triple hit of lemon from liqueur, juice and soda.
This unique atmosphere makes Atrium ideal for business meals, corporate events, or for that amazing dinner or intimate drink at the bar, with your significant other.